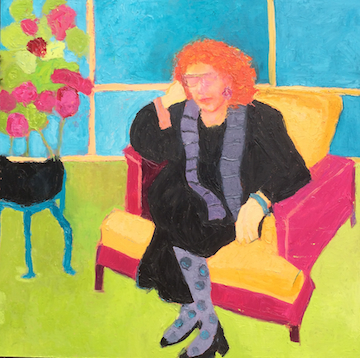 My paintings depict a tension between familiarity and abstraction. At times awkward and quirky, they celebrate an emotional response to the people, objects, and places I portray. Rather than realistic hues and forms, I use bold color, flattened planes, and varying paint texture to invite the viewer in through feeling rather than by offering a roadmap of specifics. It is unimportant whether the viewer knows that a particular painting depicts a cove in Maine, a beach on Cape Cod, or a specific home or friend.
My intent is to suggest that the viewer might share in the joy of that space or engage with the subject of my portraits. I begin with an authentic landscape, interior, or figure, and from there, I create exaggerated objects juxtaposed on flat surfaces. By leaving anchoring details unresolved within an imagined space, viewers can roam the image for themselves, entering where they will and leaving with an experience that is both aesthetic and affecting.
Having earned my Masters of Fine Arts in Painting at the New York Studio School of Drawing, Painting & Sculpture, I also studied at the Corcoran College of Art and Design, Maine Photographic Workshops, The Art League and Vander Zee School of Painting. My work has been widely exhibited on Cape Cod, in Maine and at a number of Washington DC-area venues. Gallery representation includes: The Artful Way at Cataumet Center for the Arts (Bourne, MA); Gallery 50 Contemporary Art (Rehoboth Beach, DE); and Smalling-Finsen Studio Gallery (Penobscot, ME). I am an active member of Deer Isle Artists Association. During the summer I paint on Cape Cod and in Maine.
Click HERE to read my thesis: Place and Familiarty: Conversations (Actual and Imagined) with Five American Painters.